China has consistently been the world's factory. Despite a growing trend in the United States toward shorter supply chains and increased domestic manufacturing, trade opportunities between the East and West giants are unlikely to decline very soon. Importers who make products in China for sale in the United States can choose from a variety of transportation methods, including express shipping, air freight, and sea freight shipping.
If your supply chain requires quick delivery and you have a significant logistical budget, air freight is probably the best option for you.
Express Shipping from China to the US
Air Freight from China to the USA
Sea Freight from China to the USA
What is the Best Way to Ship from China to the United States?
If you are shipping from China to the USA you should carefully consider the following aspects:
Product and Load – what is being shipped and what is the size?
Aerosol cans and strong magnets are examples of shipments that are tough to ship by air. Other products, such as lithium-ion batteries, can be shipped by air. However, the documentation required is often hard to procure, and only specialized aircraft can transport them. As a result, it is frequently more convenient to ship batteries via China sea freight.
Destination – where does it have to reach?
Most reliable China third-party logistics providers can deliver shipments to warehouses, small commercial buildings, and residential sites using their end-to-end shipping services. To determine the best shipping plan, consider the final destination and how the cargo will be delivered. Buyers may find it easier to ship smaller shipments via China air freight in some cases, while others may profit from deconsolidation services once the cargo arrives at a US port.
Timing Requirements – are the deliveries urgent?
This is extremely important to remember during the Chinese holidays. If freight must be delivered quickly, there is no better option than air transportation. Some containerized shipments coming by sea could be expedited by shipping to the West Coast rather than the East Coast and then having the cargo fulfilled by truck or rail once it arrives in America.
Shipping via ocean freight to a popular port near to the final destination and trucking the final leg of the route is generally the most cost-effective alternative if the timing is not a concern.
What is the Cost of Shipping from China to the USA?
Cost is not the main factor in most businesses, but it is frequently the most important.
Air express shipping from China to the USA.
When compared to air freight and ocean freight, customs clearance for express goods is quite easy. If you're thinking about sending large items by air or sea, it's a good idea to try out a courier service first. Arranging a trial shipment will allow you to estimate the total cost and assess whether or not it is worthwhile.
Air Freight shipping from China.
Larger shipments, generally, create more complexity. The shipping process becomes more complicated as the item grows in size.  Your imports are limited by customs clearance and product restrictions.
Sea Freight Costs and Rates from China to the US.
If your consignment weighs more than 500 kilograms, sea freight is the most cost-effective choice. It's possible that air freight will burn a hole in your wallet. As ship containers can carry a lot of weight, items weighing more than 500 kilograms should be sent by sea freight. Compare several sea freight options to find the best cost-effective and time-efficient option.
There are basically two types of shipping from China to the USA, FCL, and LCL. Both can directly affect the cost to ship a container from china to the USA and the size of the container used.
FCL and LCL Shipping from China to the US
If your cargo material is not large enough for a complete container, you can select to send a less-than-container load in rather than reserving a full container. Other small goods are loaded into the same container in this type of shipment to maximize their use. You can reserve a whole 20-foot container for larger shipments to avoid delays and other problems.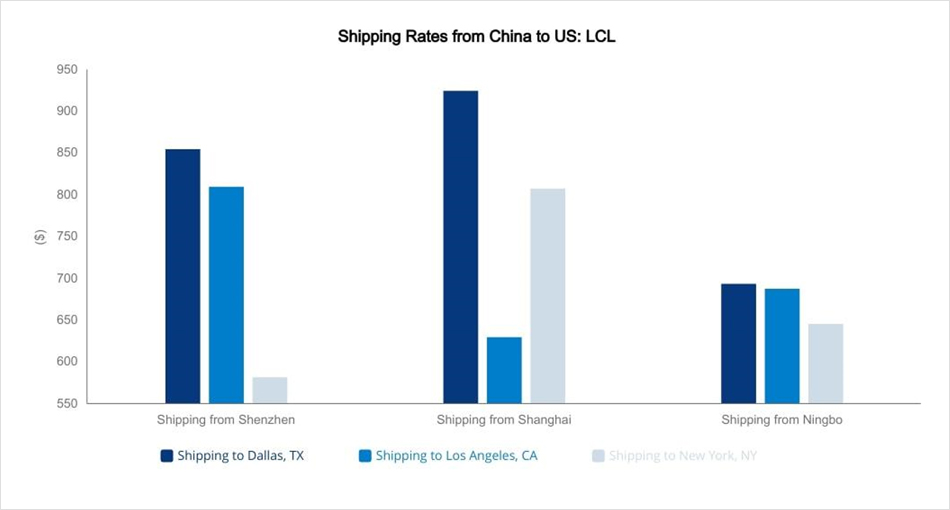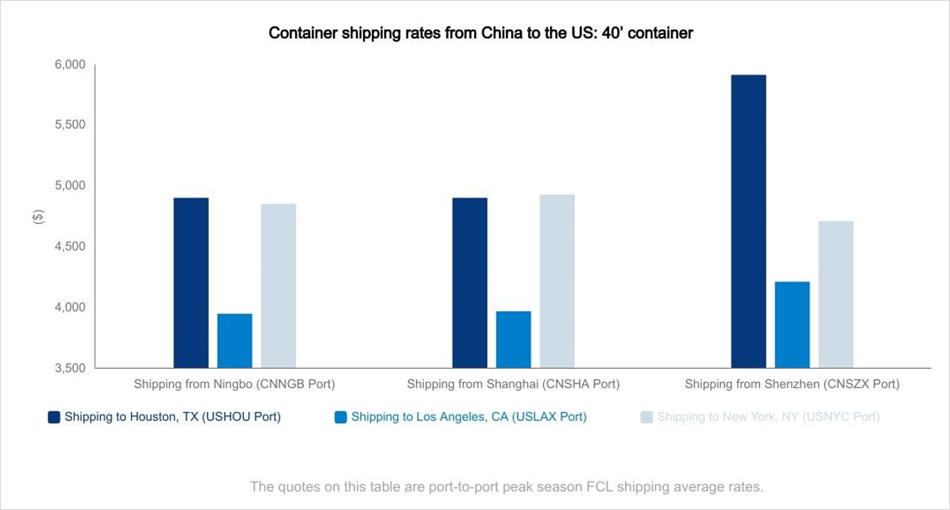 Image ref: www.freightos.com
Why Ship With Faster Freight?
Faster Freight can streamline your shipping from China to the United States of America, regardless of the size and scale of your shipment. Our industry-leading professional logisticians provide the resources you need to tackle the difficulties of worldwide freight shipping.   When you need human professionals to advise, guide, or assist you, our experts are just an email or a phone call away. Talk to us to get the best quotes if you wish to ship from china to the USA.